Helsinki, Finland – 15th of August, 2018
Background:
Helsinki, Finland – 15th of August, 2018
Action Squad Studios has released the first combat gameplay footage from their upcoming tactical RPG Iron Danger.
In the video, player characters enter the fray with a group of Northlanders; an invading army of mechanically enhanced soldiers.
The pre-alpha version of the game shown in the video is also playable at Gamescom 2018.
Iron Danger takes you into a fantasy world of swords, sorcery and steam-belching cyborgs by forging together Finnish folklore with steampunk influences.
It is a story-driven, turn-based, tactical RPG with simultaneous turns and time manipulation mechanics. A never before seen combination, which brings a new level of depth into tactical combat.
Iron Danger is to be released in 2019, but you can already wishlist it on Steam.
https://store.steampowered.com/app/899310/Iron_Danger/ …
Iron Danger will be available for PC, PS4 and Xbox One.
About Action Squad Studios
Action Squad Studios is independent game studio founded in 2016 by seasoned gaming and entertainment industry professionals from companies such as Supercell, Remedy, Redlynx, Rovio,and Bugbear. The company is build on top of shared passion to create memorable worlds and stories.
—–
Please find video and additional material from following sources
Iron Danger
Press kit: https://irondanger.com/presskit/ (including new video as .mp4)
YouTube link to the video:https://youtu.be/a3UwhY81-I4
Web: https://www.irondanger.com
Twitter: https://twitter.com/IronDangerWorld
Facebook: https://www.facebook.com/irondangerworld/ …
Discord: http://discord.gg/FJ7YDrr
DESCRIPTION
Iron Danger is a story driven tactical RPG with simultaneous turns.
It is a streamlined, action-packed single-player game in which repetitive grinding is kept to a minimum and every moment advances the story.
The player controls Kipuna and one of two individual companion characters in tactically challenging battles against a variety of different threats.
At center stage in combat is the unique time shifting mechanic that represents Kipuna's magical influence over the flow of time.
It gives the player the ability to rewind at any point with fraction-of-a-second precision, pinpointing strikes to enemies' unguarded moments, deflecting and dodging attacks exactly when they happen, synchronizing magical and physical attacks to overwhelm difficult enemies, and overcoming impossible odds through trial and error.
Iron Danger challenges you to think of combat and puzzles from a different perspective: you may be an experienced gamer, who knows all the tricks, but you've never played a game like this.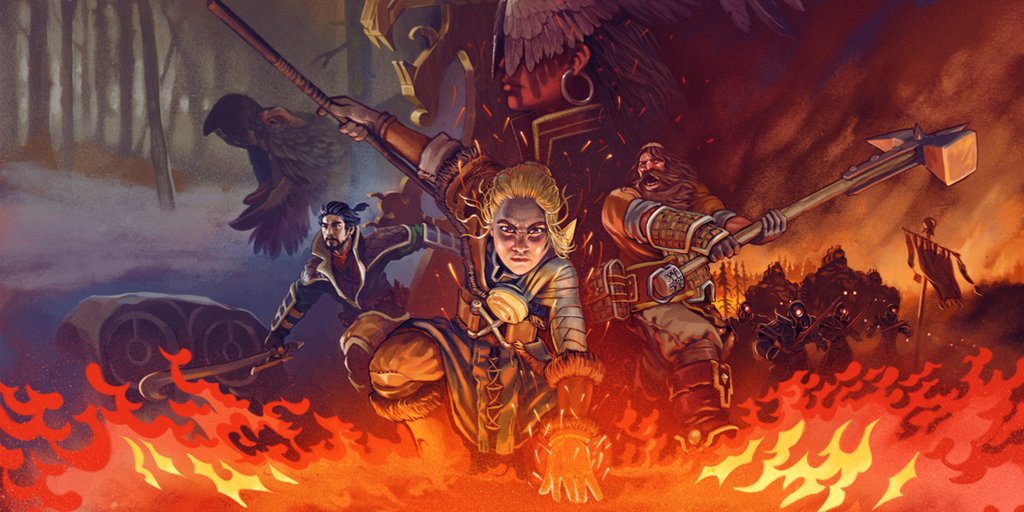 THE STORY
Kipuna, a frail village girl, is forced to escape from her home. She stumbles upon a mystical crystal shard, which impales her but also gives her the ability to control time itself.
In this trailblazing adventure packed with action, the player and the group of unsung heroes must use their wits as they're drawn into the midst of a war between the city of Kalevala, ruled by an immortal, who has renounced the gods, and the armies of the Northlanders driven by their Witch Queen.
When the enemies will seek to harness the power of the mystical element for the service of total destruction, the player's task is to seek all the missing shards in order to use it for mankind's protection.
Iron Danger is set in a world of lofty fells, primeval forest, and placid lakes… as well as living gods, monsters of steel and smoke, and supernatural doom dwelling beneath the ground.
The magical city of Kalevala, shines in the middle of this world, surrounded by towns, rivers and and woodlands under its protection.
But from the desolate North, a Witch Queen is leading her dark army on a quest for vengeance against the lords of Kalevala.

FEATURES
Use unique time-rewind mechanics and experience totally new take on tactical combat and puzzles
Enter into deep tactical combat with simultaneous turns and take advantage of highly interactive environment to succeed
Adventure in a world of steampunk fantasy and meet it's unique inhabitants inspired by Nordic mythos and folktales.
Fight epic boss monsters on the path to fulfill your destiny
No grinding.  Character development is tied to actions that player characters will take.
FACTSHEET
Developer: Action Squad Studios, Helsinki, Finland
Platforms: PC, PS4, XBox One
Release date: TBC
Website: www.irondanger.com
Regular price: TBC
Development phase: Pre-alpha
OUR TEAM
Iron Danger is being developed by a small but driven team of experienced game industry professionals.
We're united by a common vision: bringing something new and vibrant to gaming while combining all the best parts of our favorite video game genres and telling a kickass story along the way. Follow our team and check out what each of us is working on to bring Kipuna's journey and the world of Iron Danger to life.
RT FORMAT:
@unity3d #madewithunity #IRonDanger #indiedev #rpg #indiegamedev #gamedev #pcgame
@ironDangerWorld