Hanako: Honor & Blade
Takes players online for an immersive experience in Feudal Japan.
Help decide the future of a nation by playing as one of four distinct classes.
Serve a clan to defeat your opponents throughout a multi-map campaign.
Master your class' directionally-driven combat, abilities, and spirit-based skills to get an extra edge.
Enjoy a game that is easy to learn, difficult to master but seeks to capture the Soul of the Samurai.
Key Features
– Epic Online Battles
– Directional-Driven Combat
– Distinct Warrior Classes
– Symbolic Online Campaign
– Ki-Guided Abilities
The artistic qualities and backstory of the game serve as a symbolic tribute to team lead, Matt Canei's late mother.
The art and lore of the game represent an everlasting struggle of life and death, health and disease and the natural balance of opposing forces to metaphorically represent real-life tragedies and to honor those lost.
LORE
Note: Hanako is based on our own fictional rendition of the Sengoku Period (16th century Japan).
The legend goes much deeper than it appears; more will come over time and the rest will be up to you to paint.
BACKSTORY
It's a time of warrior's, people fighting for honor, love, greed, and above all the future of a nation.
In this time friends become enemies, enemies become brothers and every day is a good day to die for lord and country.
The Shogun dies and the land is split between many Daimyo rising for power, but two clans slowly rise to the top.
To the West of the capital rises the Yamai. Through violence and bloodshed they make their way through the other warlords' territories slaughtering hundreds along their path.
Holding no oaths to the sacred samurai code of bushido they throw aside honor for victory.
The nation will be renewed and if war is what it takes the Yamai will bring it. They will bring this whole country to its knees in fire and ashes and rebuild it if necessary.
East of the capital rises a noble clan, Hanako, renowned for unifying the Daimyo together striving for a strong nation under the current Emperor.
Upon hearing news of what was transpiring in the West, the Hanako clan starts reaching out further trying to unify the East faster in an attempt to meet and stop the Yamai.
A new country cannot be built on blood and violence. We should strive to build a nation as one.
As the two forces grew it became clear that there would be no way to avoid a conflict between them.
Unfortunately, the Yamai were closer to the current capital and could make haste to bring siege to Kyoto.
Fearing what tragic fate could await their great Emperor the Hanako clan unified its strength and raced towards the capitol.
With luck on their side they made it in time to aid their Emperor and bolster his forces.
The Yamai were violent but not without craft, they had anticipated someone might come to aid the Emperor and sent in spies long ago to infiltrate the city. The Hanako clan had heard of the Yamai's use of dishonorable tactics but never did they think the Yamai would go so far. The city would fall, but not before the Lord of the Hanako clan begged his Emperor to flee. He would stay behind to give him time enough to flee to safety.
These words humbled his Emperor. For such loyal subjects deserve such loyalty back. He commanded the Hanako clan lord to flee the city, but he refused.
He commanded again, but still he refused.
He commanded once more even threatening treason, but still the lord refused to leave his Emperor behind. Seeing his loyal subjects resolve the Emperor went over and grabbed a scroll with an attached medallion. He wished for the Lord of clan Hanako to take up the title as the new Shogun of the Emperor.
The lord humbly accepted the title as the new Shogun. Upon learning this Hanako clan fought with a renewed energy, but still the damage was done and Kyoto would eventually be taken.
Seeing what the future should hold if the Yamai were to win the Emperor made a decision.
He called in his new Shogun and told him to take his clan back to the West. The lord refused, but this time the Emperor told him he must.
If the country was to survive the Hanako clan was its only hope. Only through unifying the rest of the clans and eliminating the Yamai could his country reach peace.
The lord was not surprised by his Emperor's great scope of vision and insight for his country.
The lord had but one question if the Emperor were to stay behind and the Yamai one day defeated who would then rule the country? Seeing his vassal's concern brought a small smile to his face. He told the lord that Hanako would serve as the protectors of his single greatest gift, his two sons, who upon re-entering Kyoto after the Yamai were driven back could reclaim the throne and bring a new age of order and peace.
With that the Hanako clan fell back, taking the two young princes with them. The Yamai took Kyoto thinking it victory, but upon only finding the corpse of the late Emperor they were enraged.
The princes had escaped and they could only assume to where. The Yamai could never fully claim the throne as long as the princes lived and so they vowed to kill them and eradicate the Hanako clan for helping them. They have retreated for now but only to ready themselves for the long march ahead.
The Hanako clan made it back and healed their wounds. They took the princes in and began teaching them their way of life. The type of life that made them so respected among most of the clans and Daimyo in the East. They are preparing, preparing to unify the East once more and carry out the final wishes the late Emperor passed on to his Shogun.
To retake the old capitol, return the princes to the throne and above all eliminate the Yamai from their nation.
War between these two great clans is once again inevitable. Old wounds revisited, honor to be restored, glory to be had and the future of a nation within their hands.
Who will be victorious Yamai – Shinigami of War or Hanako – Soul of the Samurai…



JOURNEY ACROSS
Feudal Japan, on a symbolic campaign representing a personal trial of life and death of a lost loved one. Experience multiple levels and game modes to bring peace or chaos, in (up to) 24 players
CHOOSE WARRIORS
Destined to decide the future of Japan: The Kenshi (Swordsman), Naginatashi (Pikeman), Ninja (Assassin) or Ite (Archer). All featuring their own style of combat, movement and weaponry
MASTER COMBAT
Through discovery of different attacks, abilities and combos. Our combat system features multiple offensive stances driven by your movement, defensive techniques (such as the grappling hook) and abilities (ranging from acrobatic combos to multi-enemy sweeps to fire arrows).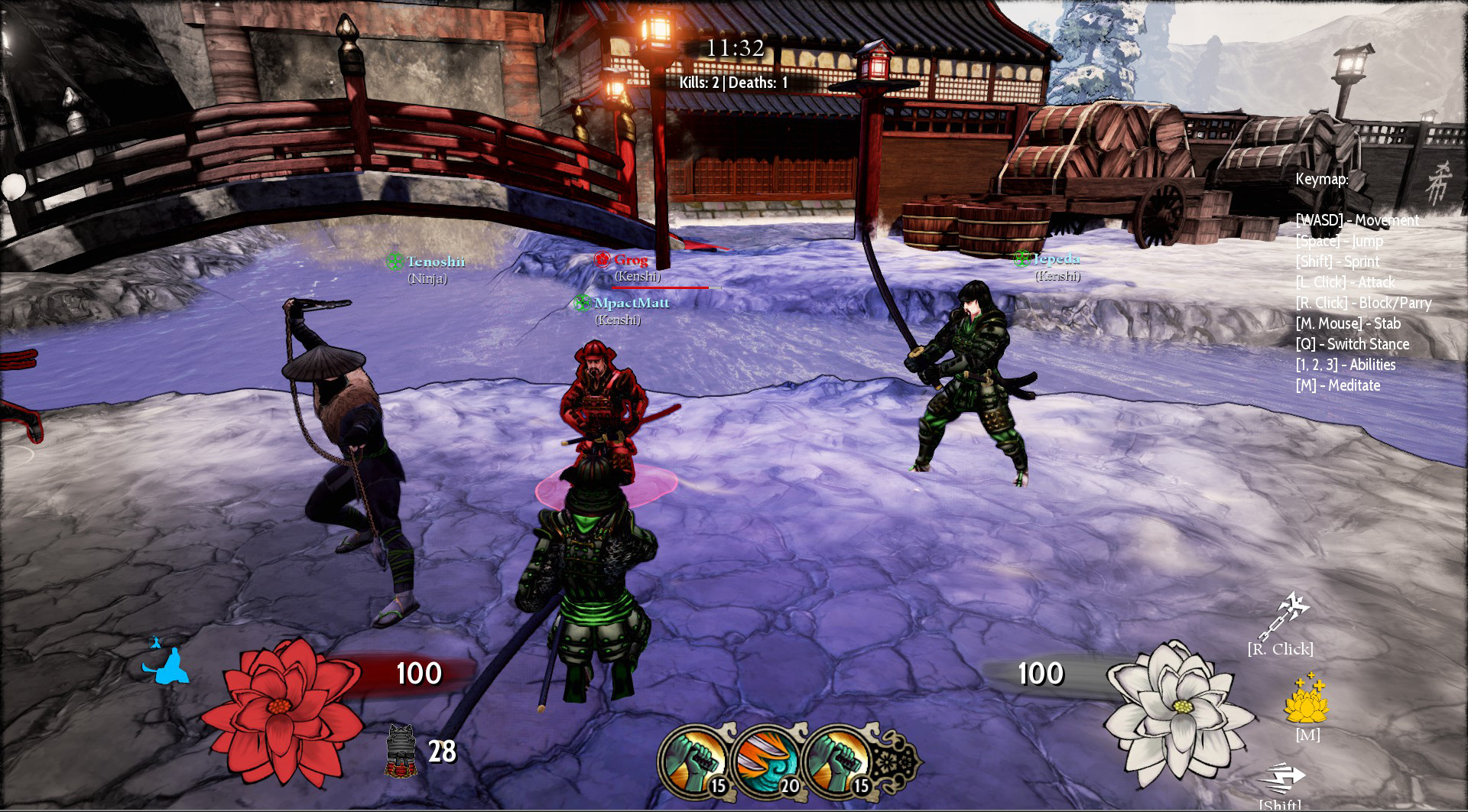 Official Site: playhanako.com
Official Discord: http://discord.playhanako.com
Twitter: http://twitter.com/playhanako
Twitch: twitch.tv/hanakogame 
Facebook: facebook.com/playhana
Matt Canei
Co-Founder, Creative/Art Direction, Co-Design
Matt founded the original concept for Hanako in 2008. He serves as our principal artist, creating most of our environment art and overall vision for the game.
Connor McCarthy
Co-Founder, Level Design, Co-Design
Connor was the first member to join the team with Matt in 2008. He serves as our primary Level Designer and UX designer, also providing co-design knowledge.
Ajani Thomas
Co-Founder, AI/Systems Programming, Co-Design
Ajani serves as our primary AI and systems programmer. He was the 2nd co-founding member to join the team in 2008. Ajani is responsible for game modes, systems and AI and helping with co-design.
Greg Libera
Gameplay Programming
Greg has served as our primary Gameplay programmer since January 2014. He is responsible for implementing the game's combat system, character abilities and other gameplay-related mechanics and features.
Lawrence Lee
Music Composition, Sound FX
Lawrence serves as our primary Composer and Sound FX engineer responsible for all things audio-related for both in-game and media. He joined our team in January 2014.
Ivan Ortega
Media Direction, Video Editing
Ivan serves as our Media (Content) Director and Video Editor. He joined the team in November 2014 and is primarily responsible for cinematic camerawork, storyboarding and all things video/media related.
Derek Zivolich
Animation
Derek has served as our primary Animator since February 2015. He is responsible for character abilities and most high priority animations.
SiTao Li
Rigging
Si Tao has served as our primary Technical Artist (Character Rigging) since July 2015.
Adam Kania
Animation
Adam has served as a Junior Animator since September 2016.
Christian Buck
Environment Art
Christian has served as a Junior Environment Artist since August 2016. He is responsible for some props and assisting making other environment assets.
OTHER PEOPLE WHO HELP MAKE HANAKO POSSIBLE:
Chien Jarvis: UI Art
Sebas Martin: Character Art
All Significant Others, Family & Friends who support us and allow us to compromise our time for this dream.