Thousands of game developers from all over the world participated in Game Off, our fifth annual game jam celebrating open source. The theme this year was throwback, and jammers created over 200 games from infinite runners and retro flight simulators to old school Game Boy and LCD Games.
This year, participants rated games based on six criteria–overall, gameplay, graphics, audio, innovation and theme interpretation. Here are your 2017 winners plus a few staff favorites.
Overall winner and voted best gameplay – Daemon vs. Demon
► Play (Win, macOS) · Source (Godot, GDScript)
"Every swing looked and sounded meaningful, which made it super satisfying to play. I liked the darker tone of the graphics and music. " – @AiriKarin
In Daemon vs Demon our hero has to slay rogue demons to be able to remain in the world of the living.
Best graphics – Neon Skylines
► Play (Win, macOS, Linux) · Source (Unity, C#)
"This game is sooooooo gooood I can't stop playing!" – @BonbonGit
Neon Skylines is an addictive retro arcade game with an 80s sci-fi look and feel. Fly through a procedurally generated neon world, and use your ability to slow down time to avoid crashing.
Best theme interpretation – COMMIT4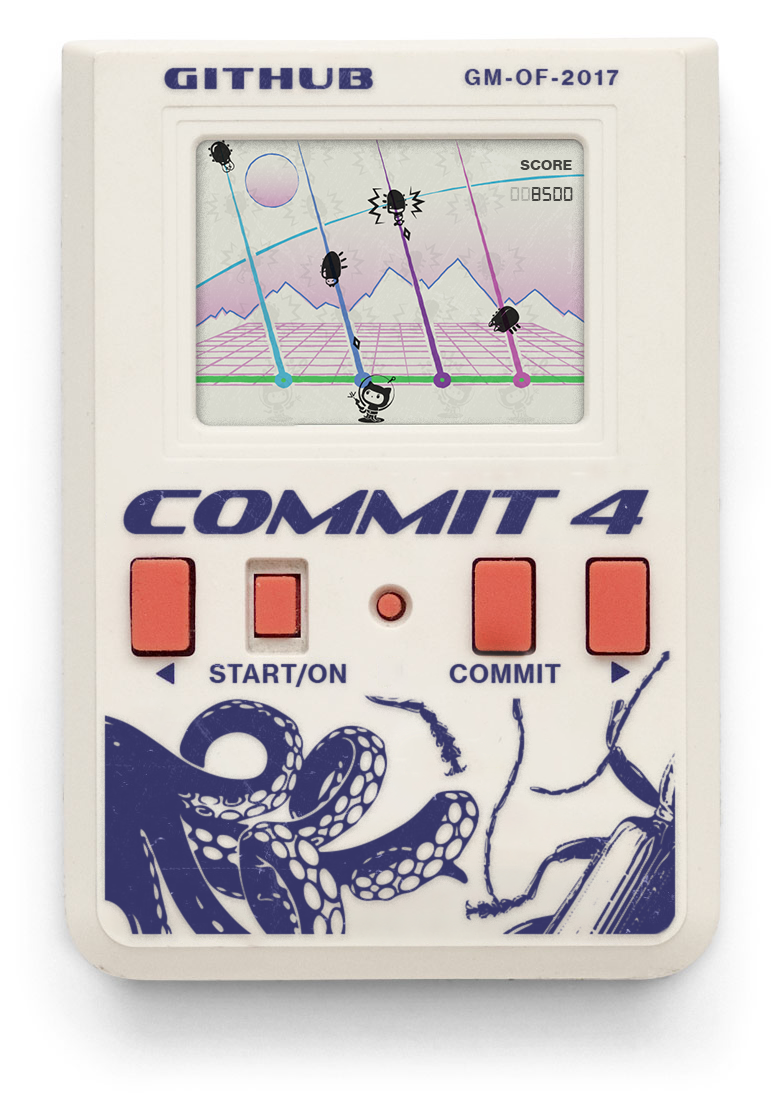 ► Play (Web) · Source (Phaser, JavaScript)
"This was awesome, it felt just like the old LCD games I had growing up. The visuals and audio were on point." – @sprngr
COMMIT4 is a digital LCD game where you take control of an Octocat and try to destroy incoming bugs trying to break your master branch.
Best innovation – Lazonyx
"A complete package! Truly unique and fun game 😀" – @tahaali54
► Play (Windows, macOS, Linux) · Source (Godot, GDScript)
Lazonyx is a retro arcade-style 2D single-screen platformer with movable platforms. The goal is to shoot the enemies, and collect the rings that they drop. The rings needs to find their way to the collection point at the bottom of the screen.
Best audio – Heatwave
"The graphics and music are amazing and it has outstanding gameplay! Well done!" – @securas
Relive the glory days of text based inventory management in Miami during the 80s.
Staff picks
That's just five games from over 200 that were created. Whatever your operating system or game genre preferences might be, we're sure you'll find something that'll capture your attention on the complete list. Here are a few of our favorites…
Throwback
► Play (Web, Win, macOS, Linux) · Source (Unity, C#)
"The music, graphics and feeling is amazing!" – @Sygmei
In Throwback you have to run and throw back trash cans into bisons that are in pursuit.
Dark Forest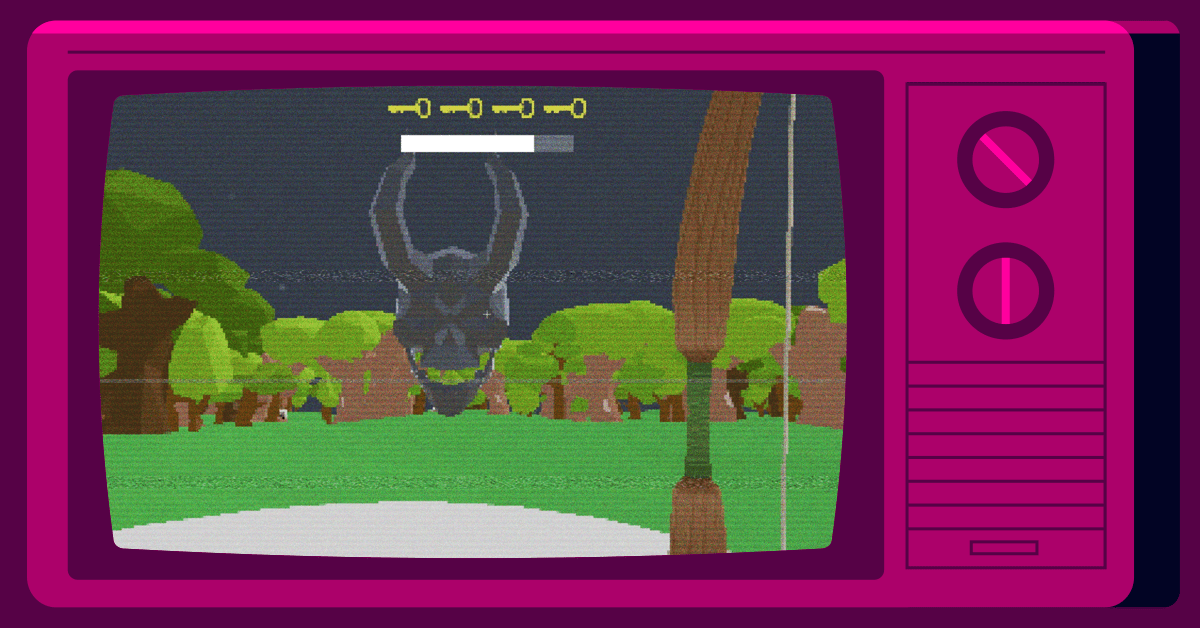 ► Play (Win, macOS) · Source (Unity, C#)
"Just an absolutely killer idea. Speaking of killer, this is really hard! But I'll for sure be playing this game until I can beat it." – @patricfallon
In Dark Forest an evil spirit from the Dark Realm is invading the forest. Find and pass through the Dark Realm gate to fight it. Keys to the gate have been scattered across the forest and across the departing realms. Departing realms are parallel dimensions, each a step towards death.
Did you know: @progrium streamed and recorded the entire development of the game. Watch it on YouTube.
Glitcher
► Play (Web, Win, macOS, Linux) · Source (Unity, C#)
"Amazing work. Truly great idea and execution. Made me very nostalgic for my old Apple Classic." – @patricfallon
Glitcher is a Tactical Espionage game where you play as a computer virus infiltrating an older operating system.
BAD VIBES
► Play (Win, macOS) · Source (C#)
"This is a good game! I've also made a video lets-play which is now live on YouTube." – @ElkCloner
BAD VIBES pays homage to the first-person shooters from yesteryear. Run around a maze collecting keys and vaporizing all the baddies that get in your way.
Reinvent the Wheel
► Play (Win, macOS) · Source (Unity, C#)
"This is a hilarious and weirdly addictive game. Still have yet to beat 170, but one day I will make that magic 190 wheel!" – @patricfallon
Taking the theme 'throwback' to the extreme, Reinvent The Wheel takes you to the stone age for a chance to rewrite history! Fashion a wheel with the limited time and resources given to you, and challenge your friends to see who's invention will travel the farthest.
Vengeance
► Play (Web) · Source (Unity, C#)
"This was a really clever idea. I should have played easier on myself so I could have gotten farther, but no. Bullets everywhere." – @gumballstudios
Vengeance is a game where the enemy is always as skilled as you are.
Can You Throw My Ball Back Please?
► Play (Web, Win, macOS, Linux) · Source (Unity, C#)
"I love these point and click adventures, reminds me of Monkey Island. I like how this starts off so simple then expands into more and more as you explore. Great game!" – @bal200
Can You Throw My Ball Back Please is a point and click adventure game in which you take control of Jeremy and help return a ball.
Kickpunch
► Play (Web, Win, macOS, Linux) · Source (Phaser, JavaScript)
"Nice! I had fun playing and reminded me of games I played as a youth! My daughter loved it as well." – @strayvoltage
Kick. Punch. Move. Don't let your enemies surround you in this old school beat-'em-up game.
bmrng
► Play (Web, Win, macOS, Linux) · Source (Phaser, JavaScript)
"I love the simplicity! Also, the graphics, while minimal, are very stylish. The boomerang mechanic is really fun and satisfying paired with the sound effects. Great work!" – @travm
bmrng is a fun, casual game where you throw a boomerang to hit targets. Watch out for the pandas though!
Glitch
► Play (Web, Win, macOS, Linux) · Source (Unity, C#)
"Very cool! Actions have some great snap to them." – @sctincman
Make your way through the last surviving sentient beings on earth. As they try to tear you to pieces. You play as a a Glitch who is obssesed with discovering the meaning of life.
Tricolors
► Play (Web, Win, macOS, Linux) · Source (JavaScript)
"Solid puzzle game, had me hooked immediately." – @sprngr
TRICOLORS is a tiny puzzle game about blocks and colors inspired by Lights Out.
AntiPacMan
► Play (Web, Win, macOS, Linux) · Source (JavaScript)
"Gesture recognition was done amazingly. Well done and good job on the concept." –
@strayvoltage
Roles are reversed. Gameplay turned upside down. Help defeat PAC-MAN by drawing symbols on your screen.
Badgun
► Play (Web) · Source (Phaser, JavaScript)
"Extremely well executed. Reminds me of Death Really which I played until my arrow keys caught fire." – @I4N-T
Help BADGUN, the hard-boiled Hawaiian cop, get more money. Collect coins, avoid the obstacles, and watch out for the heavy traffic.
Thank you!
Thank you everyone who created, played and judged these amazing games! People all over the world are enjoying them, and hopefully the next generation of game developers or weekend hobbyists will be able to learn from the source code and inspire them to build something themselves.
If you enjoyed any of these games, why not leave a note for the creators on their game page? With any luck, development will continue, so don't hesitate to submit pull requests with bug fixes, new levels, and more.
Special thanks to our friends at itch.io for making this is our biggest, best, and funnest Game Off yet!
Happy holidays and see you next year!
Ref: https://github.com/blog/2483-game-off-2017-winners
GitHub

 

STAFF

San Francisco, CA